Collaborating for Success: Scaling Up Innovation Together?
Are you ready to be a part of the change-makers of the world? The need for new technologies and innovative solutions to tackle society's problems is greater than ever before, yet many don't know how to navigate the obstacles and leverage the mechanisms to successfully implement and scale innovations.
By joining forces with other like-minded individuals and organisations, we can turn our bold ideas into tangible progress that improves people's lives and drives economic growth without sacrificing our planet. Collaboration is the key to really make an impact to scale innovation on a global scale. Are you ready to learn what it takes to make this happen?
The UAA Symposium 2023 on Scaling Up Innovation brings together leaders from various backgrounds including academics, entrepreneurs, corporates, and consultants to discuss the mechanisms of innovation and how to collaborate for success.
During this one-day event, you will have the opportunity to:
Symposium Packages
You can participate in the UAA Symposium in various ways, whether it be attending the entire event or just certain portions. The options available are detailed below and match with the activities shown in the program.
Learn about

innovation

and its

mechanisms

(funding, people, policy, technology)
Hear

stories

of Innovation Scale Up from innovators, entrepreneurs, corporates,...
Engage in

discussions

and

roundtables

to shape the way collaboration is done within the Unitech Network
Today's leaders will meet and engage with future leaders to discuss how to work together to achieve common goals. We invite you to be part of this conversation!
Symposium Agenda
8:15 to 8:45 -

Registration

- Reception Desk (Building 1)
9:00 to 9:15 -

Welcome from the UAA

- Conference Center (Building 2)
9:15 to 10:00 -

Keynotes:

Innovation

and mechanisms



10:00 to 12:00 -

Innovator's Stories



10:00 to 10:30 - Introduction and 4x innovator's pitch (Zugvogl, ZF Mobility, Bavertis, DeepEye)

10:30 to 11:30 -

Coffee Break

and story listening

11:30 to 12:00 - Plenary conclusions
12:00 to 13:30:

Infineon

Campeon Walk and Lunch



Part 2: How do we work together?
13:30 to 15:30 -

Moderated Roundtable Discussion



13:30 to 14:00 - Introduction and presentations

14:00 to 15:30 - 2 x 40min Roundtable Discussion (People, Policy, Funding, Technology, Build)
15:30 to 16:00 -

Water break and Innovative Mingle



Part 3: How big can we go?
16:00 to 17:00 -

Corporate Innovations



16:00 to 16:30 - Silicon Microphone - from 5 people to a multi-million business

16:30 to 17:00 - Rheticus: Scaling up artificial photosynthesis based on a collaboration of Siemens Energy and Evonik
17:00 to 17:30 -

Panel Discussion

-

Bringing Innovation Together (Siemens, Deloitte, Unitech, DeepDrive)

Symposium Location




The UAA Symposium 2023 will be hosted by Infineon Technologies at the headquarters in Munich.
You can get to Campeon:
By public transport: SBahn S3 - Stop at Fasanenpark

By bike: MVG bike station on Campus

By car: visitor parking outside open and free
Social Program
Welcome Dinner
Join us Friday for a casual welcome dinner at a traditional Bavarian restaurant to get to know each other better. Meal and 1 drink included.
Giesinger Braüstüberl
Symposium Dinner and Soirée
Join us Saturday to connect with the other participants in a relaxed and enjoyable setting. Enjoy drinks & food in one of Munich's centrally located hotspots! Additional guests are welcome.
Orangerie, Café Reitschule
Paulaner Starkbierfest
Discover the Starkbierfest, a traditional festival, and a must-attend event for anyone looking to indulge in some of the best beers Munich has to offer.
15€ coupon for drink or food included.
Paulaner am Nockherberg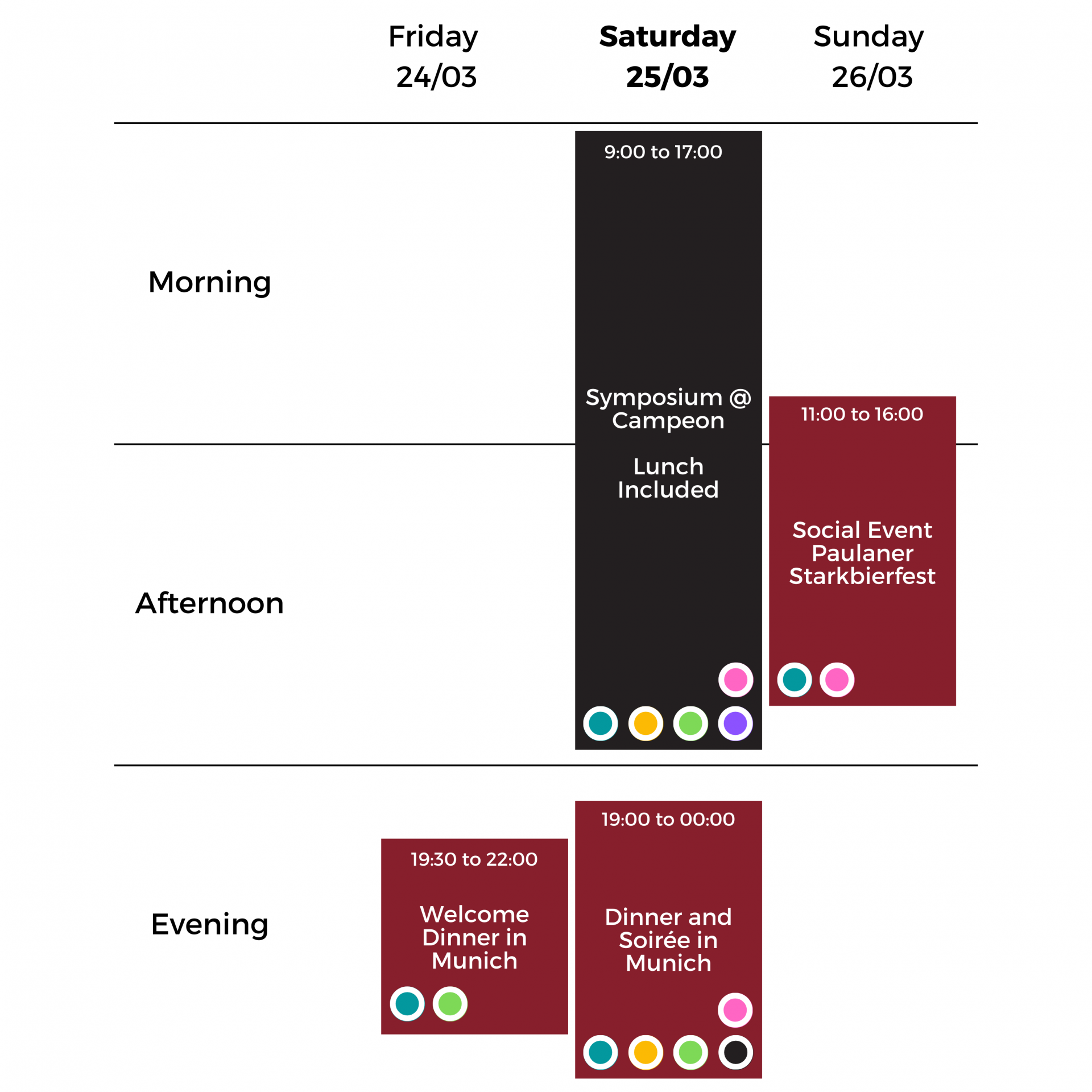 Transport and accomodation




Participants are responsible for arranging their own transport and accommodation. However, the UAA may be able to support and arrange group reservations. You can indicate your need for support in the registration form.
Due to logistic reasons, public transport tickets will not be provided. We recommend to book accomodation close to Munich's central station, east station, or around Giesing Bahnhof.
Hotel recommendations
Hostel - from 30€/night - Group reservation possible - 25' to Campeon
3 Star hotel - from 80€/night - 25' to Campeon
Hotel - from 80€/night - 15' to Campeon
UAA Symposium 2023
Scaling Up Innovation
Munich, Saturday March 25, 2023
Optional Social Program on March 24, 25 and 26